Annie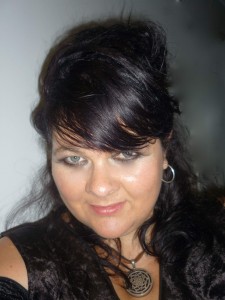 Mystress Weaver
(aka Annie Evett)
Australia
Prolific scribbler of characters, weaver of story lines, champion of the return of the short story and professional cat herder.
She has a herd of rabid squirrels and pack of trained flying monkey ready to do her bidding.
Mystress is addicted to her coffee machine, chases monkeys other people refer to as her children, attempts to ignore the voices in her head, is a contributing editor on a number of sites and publications and sleeps occasionally.
Series Contributed To:
In Print
"Weaving Lost Notes" Once Upon A Time: A Collection of Unexpected Fairytales (2012)
"Dark Rapture" 100 RPM (2012)
"First Blooding" Twisted Tales (2012)
"Prints" New Sun Rising (2012)
"Recapturing Lost Notes"  100 Stories for Queensland  (2011)
"Click"  Nothing But Flowers (2011)
"Starry Starry Night"  Not In the Brochure (2011)
"The Assignment"   Cats With Thumbs (2010)

"In Pursuit of Perfection"  in Deadly Love, Be Mine (Ed) Jim Wisneski via Soft Whispers ( 2010)
"Kanyasulkam"  The Yin Book, Chinese Whisperings (2010)
"Leather Tack and Tears" 50 stories for Pakistan,   Big Bad Media (2010)
"Forgytan" Short and Twisted (2010) Celephane Press
"Modraniht "  Deck the Halls (2010)
"Kraepelin's Child "– The Red Book, Chinese Whisperings (2009)
"Staring into the Night"  – Metazen – A Christmas Book (2009)
"Reclaim – a Survival Guide for Couples" (e-book)  (2008)
Astonishing Adventures of Captain Juan online adventure serial with Paul Anderson, Jodi Cleghorn and Chris Chartrand.
Websites
Write Anything – Editor and Monthly Contributor
Type A Parent –  Monthly Contributor and Editor
Creative Writers Institute Monthly Contributing Editor
PopBunker – weekly columnist – Asian Movie Reviews
Contact Annie